Description of Preventive Maintenance
Preventive maintenance is the care and protection of your vehicle against potential major auto repairs. Negligence is the most common and costly way to see money wasted on repairs that could have easily been prevented through regular service intervals. Depending on your vehicle's manufacturer, avoiding preventive maintenance on certain parts and components has the potential to void warranty coverage. Car maintenance intervals have been designed to improve the reliability, durability, and resale value of your vehicle. Based upon your driving conditions, these service intervals may arrive sooner than you expect. For example, short commutes can actually hurt a vehicle because most engines thrive during long drives. Driving short commutes, experiencing stop-and-go traffic, and carrying heavy cargo are all aspects of severe driving. However, severe driving can also be reinforced by your environment. Hot or cold weather, mountainous or rough roads, and dusty or salty environments can all affect your vehicle. Because of these innumerable factors, adhering to a rigid service schedule can keep your vehicle operating at maximum efficiency for years to come.
Benefits of Preventive Maintenance
Vehicle components and parts naturally wear out over time, and road hazards can negatively impact critical components. By adhering to the preventive maintenance schedule in your vehicle owner's manual, you will help ensure that your vehicle always runs at optimal conditions. Depending upon the vehicle's service interval mileage, our staff may inspect the function of your steering and suspension components, fluid filters, belts and hoses, brakes and axles, and more to help ensure that your vehicle functions efficiently. Our staff can look at the level of vital vehicle fluids. We are also able to review exterior and interior lights, examine windshield wiper blades, check batteries, inspect hinges and locks, determine level of ball joint wear, check transmission components, fix exhaust system components, and conduct both tire wear inspection and inflation checks. It is important to schedule preventive maintenance for these and other components to ensure they continue to work as intended. Remember that environmental conditions may affect your ideal preventive maintenance schedule. Depending upon your environment, you may need to seek more frequent inspections and replacements. Contact us today to learn more about recommended car maintenance service intervals for your vehicle.
Zurovec's Auto & Transmission Repair proudly serves the preventive maintenance needs of customers in Richmond, TX, Rosenberg, TX, Sugar Land, TX, and surrounding areas.
Areas Served : Richmond TX | Rosenberg TX | Sugar Land TX | and surrounding areas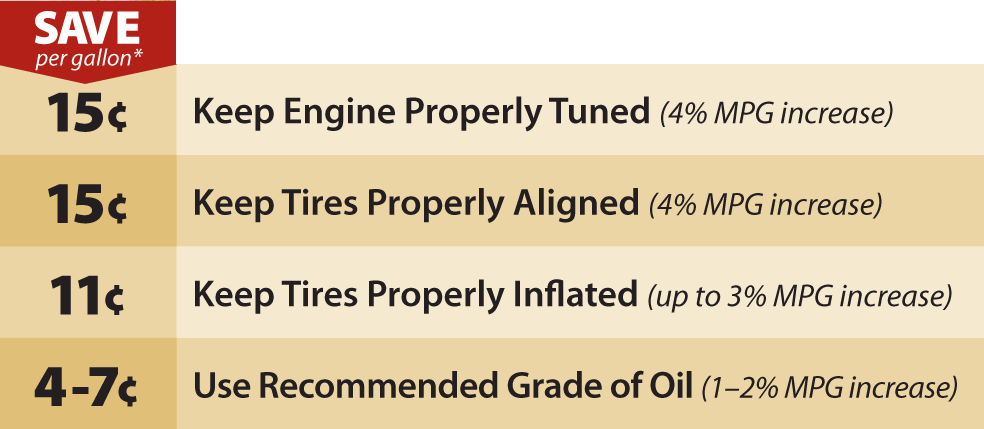 Tune-Ups & Regular Maintenance Check-Ups
One of the best ways to gain fuel economy is to get regular tune-ups. This will help improve gas mileage as well as ensure the maximum performance of your vehicle. Your maintenance schedule can be found in your owner's manual. Worn spark plugs, dragging brakes, low transmission fluid, or your transmission going into high gear can all reduce fuel economy.
Proper Tire Pressure
When tires aren't inflated properly it's like driving with the parking brake on and this can waste a mile or two per gallon. Check your owner's manual for the proper air pressure for your vehicle's tires. (Source: www.aaa.com)
Proper Wheel Alignment
Keeping your wheels properly aligned will not only help your vehicle get more even tire wear, but it will also help your vehicle achieve better fuel economy. Don't confuse wheel alignment with wheel balancing. Both are important maintenance items, but are different procedures.
Avoid Idling Your Vehicle
If you expect to be stopped in your vehicle for an extended period of time, turn the engine off. Consider going into an establishment instead of going through the drive-up. Limit warming up your vehicle in the winter.
Optimize Octane
Check your owner's manual for the correct octane level for your vehicle's engine. 20 percent of drivers purchase premium fuel when filling up at the pump, but less than 5 percent of cars on the road have engines designed for high octane fuel. If your engine was not, then pumping premium is only putting you at a loss. (Source: www.aaa.com)
Follow Motor Oil Grade Recommendations
Using the manufacturer's recommended grade of motor oil, can improve your gas mileage by 1.2 percent. For example, using 10W-30 motor oil in an engine designed to use 5W-30 can lower your gas mileage by 1.2 percent. Using 5W-30 in an engine designed for 5W-20 can lower your gas mileage by 1-1.5 percent. (Source: www.fueleconomy.org)
Don't forget to check your fuel cap. Make sure it's undamaged and secure. Missing or problematic caps are responsible for 147 million gallons of gas vaporizing annually. (Source: Car Care Council - www.carcare.org)
Make sure to bring your car in for routine oil changes. The typical car manufacturer recommends every 3 months or 3,000 miles -whichever comes first. Some of the newer models can go longer.Bring your car to Zurovec's Auto & Transmission so we can best determine frequency for you.
Rid the Trunk of Your Junk
Gas mileage decreases as extra weight is added. Remove items you don't use daily to make your vehicle more fuel efficient. Improving your vehicle's aerodynamics will help lower your fuel cost. Take down any bike, ski or cargo racks from your roof. Washing and waxing your vehicle and rolling up the windows will help improve aerodynamics.
Enjoy the Breeze
Use your air conditioning only when necessary. This tip might not be reasonable for everyone. Forgoing a/c in the south on a sweltering hot day certainly isn't practical. The air conditioning utilizes your vehicle's motor, eating into your gas savings.
Parking your vehicle in the shade, and venting your windows a little when you park, will help to keep it cool when you get in. When driving at lower speeds, enjoy the breeze or open the air vents to keep your car comfortable. Once you reach highway speed, roll up your windows to improve your aerodynamics and set the a/c to a reasonable level. (Source: Consumer Federation of America)
* Assumes an average fuel economy of 22.5 mpg, fuel cost of $3.65/gallon, and 15,000 miles of travel annually. Your fuel economy improvement will depend on several factors, including how closely you are already following these practices. MPG increases are for individual tips. Improvement may be different when more than one tip is used. (Source: FuelEconomy.gov & E-SafetyForAll.com)